Wild!
Picture a peaceful summer evening on the chapel deck at Camp Geneva. The sky is painted with streaks of orange, blue, and purple. You can hear the waves gently hitting the shore as a cool breeze blows off Lake Michigan. Turning toward the windows of the chapel you can hear campers lifting their voices in praise to the Lord. The chaplain waits for the opportunity to come before 200 plus young campers to present the Gospel. Sacred moments like this encapsulate last summer's camp theme of "Wonder."
As the program team began to brainstorm a theme for 2019, the focus was on God's overwhelming love behind the wonderful and awe-inspiring things He has done. A love that is unconditional, unwavering, countercultural, sacrificial, and sufficient for all our needs.
In considering God's amazing love, 1 John 4:10 stood out to our team: "This is real love—not that we loved God, but that He loved us and sent His Son as a sacrifice to take away our sins (NLT)." This verse encompasses much of what we profess as Christians and the essential message we want campers to hear at GENEVA. God loves them so much that He sent His one and only Son to sacrifice Himself for them. The fact that this kind of love is freely given to us is mind blowing!
As we were striving to convey this idea with a single word or phrase, one of our teammates recalled a scene from The Lion, the Witch, and the Wardrobe by C. S. Lewis. Near the end of the book Mr. Tumnus and Lucy are watching Aslan the lion, who represents Jesus. Mr. Tumnus says to Lucy, "He's wild, you know. Not like a tame lion."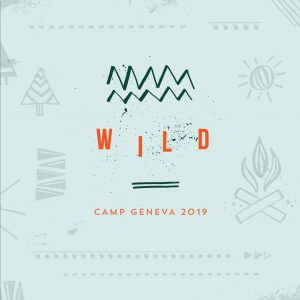 Wild!
God's love for us is wild.
It's wild that God loved us before we could love Him.
It's wild that God sent His Son as a sacrifice for our sins.
However 1 John 4 doesn't stop there. Verses 11 and 12 teach us to demonstrate His love to others. And why wouldn't we? When we think about the love God has for us we can't help but want to share it with others.
We can't wait to share that wild love with thousands of campers this summer and inspire them to share it with the world!