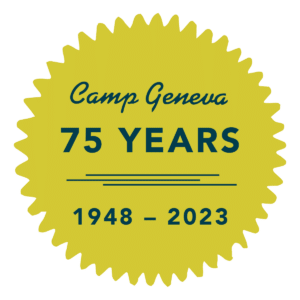 Camp Geneva's 75th Anniversary Celebration | July 9, 2023
This July we celebrate 75 years of camp ministry. Camp Geneva was incorporated in 1946, built during 1947-48, and hosted our first youth conference in July 1948. In honor of the past 75 years of ministry, we will celebrate God's faithfulness during the July 9 worship service. After the service, food trucks will be available to purchase a picnic lunch in the pavilion, the pool and splash pad will be open for everyone, there will be self guided tours, and you and your family are welcome to use GENEVA's beach.
10:00 am |  Worship Service in the ARC | Rev. Greg Vander Meer | Music: Eric Schrotenboer
11:30 am – 2:00 pm |  Food will be available for purchase: Holy Smokers and Mezkla Food Trucks
Noon – 3:00 pm | Lake Michigan Beach and Pool will be open for swimming (FREE) | Camp Geneva store will be open |  The Printmobile will be onsite to print limited edition GENEVA t-shirts ($25 ea) | Grounds will be open for self-guided tours | GENEVA history books and prints available for purchase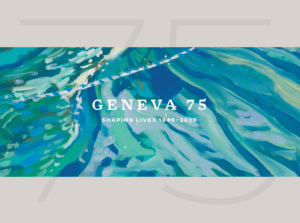 We are excited to announce the release of Geneva 75: Shaping Lives 1948-2023! This hardcover coffee table book shares the pictures, memories, and history of Camp Geneva over the past 75 years of ministry. The purchase price of the book is $60. It is available to purchase/pick up at the event, GENEVA office, or we will ship it to you for $10.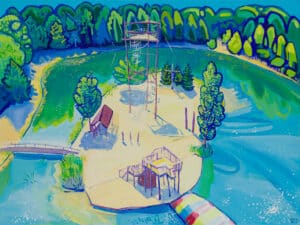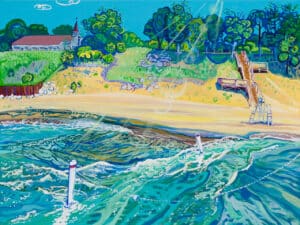 Take home the spirit of Camp Geneva by purchasing 75th anniversary prints by Joel Schoon Tanis. Print options available 11×14 (actual image size 9×12) for $40 and 24×30 (actual image size 20×26.5) for $200.
For a limited time if you buy both paintings you will receive the second half off.
Order the book or order prints at the GENEVA office or online HERE. Or at the GENEVA office.
If you have any questions please contact the Camp Geneva office 616.399.3150 or email jessica@campgeneva.org.